Thursday
Al provided a very thorough and complete explanation of the various flavours of Kanban. He covered:
Kanban as a signal
Kanban as a Team Development Process
Kanban's Roots in Lean
Scrum as a Manifestation of Lean
Lean Kanban University (LKU) Kanban aka The Kanban Method
Kanban Thinking or Lean-Kanban
Getting Started with Kanban
Al very kindly chose to record his presentation and make it available on his website. He also posted the slide deck here.
Dennis and Mike believe Agile is about team and if you can't get to teams you fundamentally cannot get agile to work. When getting started with agile, figure out what is the right thing to form teams around.
When it comes to agile at scale, the challenge is how to coordinate multiple teams delivering output at the same time. You need to determine "what are the things that are shared, and what are the things that consume the shared stuff". At scale the performance of the team isn't as important as the performance of the corporation as a whole. Focus less on team velocity rather focus on cycle time at the program and portfolio level.
Dennis and Mike told us scaling is hard, because books tell us what it looks like but not how we get there safely. You have to align the team, management and executive perspectives to create the safety for an agile transformation. If you are in a place where you don't have trust in the team it's probably because they haven't delivered because of the system around them. Overloaded teams will find it safer to say 'yes' and fail, than to say 'no' to more work.
When it comes to starting an agile transformation start by understanding the business drivers of the organisation, define the operational framework, introduce change incrementally, measure improvement and tie it back to the business drivers. Most people in the face of good data won't make irrational decisions. Cultural shift is important but it takes time and requires safety, you have to create the operational model first. "You are not going to kumbaya yourself into an agile enterprise!"
Everything touches everything. If we are trying to change one thing it always impacts another. How does language play into the success of change? How do people talk about change in your organisation? Do they use words like: change management, drive change, create a burning platform, evangelize, cut the dead wood, clean house, roll out change, overcome resistance. When we use language it's not just the words that are active in our brains. 98% of our thinking happens at an unconscious level.
"You're going to cut the deadwood? Weren't these people all alive when you hired them?" - @estherderby #Agile2013
— Michael (Doc) Norton (@DocOnDev) August 8, 2013
We are awash in metaphor everyday. It is pervasive, everywhere we go, in every conversation we have. When we use metaphor it kicks off a process in our heads, a frame, with roles and scenarios, therefore we need to be careful and intentional about the language we use. The way we talk about change, for the most part, masks the complexity of what we are doing. When we use metaphor and kick off that script, it makes it more difficult to engage. Every change is different . You have to start where you are and find your own road. Every time we have a gap between our values and actions, cynicism and fear fills the gap.
There is always an emotional element to change. Denying the emotion keeps it in play. You don't need to fix it you just need to acknowledge it. People eventually adjust to change and reach a new status quo. The best time to make a change is when folks have successfully integrated the last change. The worst time is when things are in a state of chaos.
When we change the structure of an organisation we impact identity, status and affiliation creating resistance. When there is resistance we push hard and the resisters push back and don't feel heard.
People resist for a number of reasons, they don't trust the person behind the change or they might think its a really stupid idea. When people don't feel like they are being heard they hold on harder. The reasons people may resist change are mostly pretty legitimate - to save the things they value.
Changing organisations changes people, impacting identity, status and affiliation. You need to provide support, empathy and time to learn. If we want to succeed in change it requires trust. Trust must be given (not earned). Trust is not binary, it is always contextual and bounded. Trust is one of the reasons that change fails. People don't resist change they resist coercion. We need to connect. If we don't connect we don't have trust.
Esther recommends the following reading material on this topic:
Metaphors We Live By
by George Lakoff & Mark Johnson
Facilitating Organization Change: Lessons from Complexity Science
by Edwin E. Olson & Glenda H. Eoyang
Satir Change Model
Slow Ideas by Atul Gawande
Agile Business Intelligence & Data Warehousing Open Jam
Lean Cocktails
Organised by +Lynn Winterboer, the Agile Business Intelligence & Data Warehousing open space was an opportunity to talk with "esteemed authors" +Scott Ambler and +Ken Collier as well as a number of practitioners about the challenges specific to using agile in the data domain. The morning session was so successful it was followed up by "Lean Cocktails" at the end of the day.

Conference Party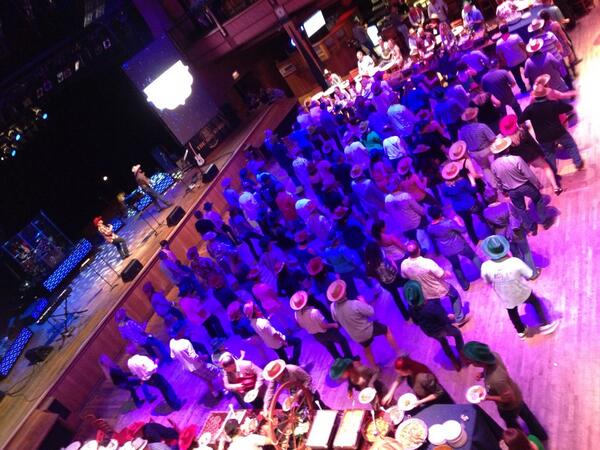 Held at Nashville's Wild Horse Saloon the conference party was unlike any conference party I had been to before. Everyone was given a cowboy hat and bandana on the way in and it was not long at all before the line dancing started! While I chose not to line dance myself, +mia horrigan and I enjoyed watching +Matthew Hodgson join in the fun.



Monday
I missed Monday morning's keynote to attend the Executive Forum. In hindsight, the Executive Forum was not the best use of my time and hence I decided to spend the remainder of my day checking out sessions from the main conference.
The Keynote, "Coding for America: How Agile and Lean are disrupting government -- and why they need to", was videoed and can be viewed online here.
The Agile Mindset by Linda Rising
This session was definitely my highlight from Day 1. Building on a theme touched on by Mary Poppendieck and Torbjörn Gyllebring at Agile Australia, Linda explored the fixed versus agile (growth) mindset. This session was a sequel to her Agile 2011 Keynote, 'The Power of an Agile Mindset' which I can also recommend.
Linda's message was clear: mindset is not fixed, we are born agile and research has shown we can develop either a fixed or agile mindset. Stereotyping is dangerous, as those being labelled become believers in the stereotype (as illustrated by the "blue eye/brown eye" exercise). To foster an agile mindset, praise effort not talent eg. You worked hard on that! vs. You're so smart!". Failure is essential to learning.
Linda recommended the following books:
Creating Great Businesses Requires Great Empathy by Jean Tabaka and Robyn Mourning
Jean and Robyn's workshop focused on teaching techniques for using empathy practices to shape better solutions. They showed a powerful video of George Kembel from the d.school at Stanford talking about how using design thinking resulted in a more child-friendly MRI machine. (While not the video shown by Jean and Robyn, this footage of George Kembel telling the story can be found here - start from 4m45s.). The workshop provided an overview of the design thinking process used at Rally Software: Empathise, Circumstance, Define, Ideate, Prototype and Test, based on the d.school process. The session left me with no doubt that "Guessing is easy. Empathy requires discipline".
For those interested in learning more Jean recommends the Virtual Crash Course in Design Thinking by the d.school at Stanford
DevOps isn't Enough for your Dysfunctional Organisation by Mandu Walls
Mandi helps companies implement DevOps but finds the problems that generally need to be addressed are less about technology and more about people and process dysfunction. She pointed to specialisation, prioritisation and conflicting incentives as the origins of this dysfunction. Tools she recommends to combat this include: goal setting, communication, self-awareness and training.
When it comes to implementing devops, Mandi likes to conduct a baseline assessment of the current state and reasons for change by talking to everyone and she has some great questions she uses. My favourites included: "What is the most broken thing about the current process/project?" and "Who is able to hold your project hostage?"
Mandi was kind enough to post her presentation on SlideShare which provide a more details on her approach to implementing DevOps and some great questions you might want to use in assessing your project's current state.
Ice Breaker Reception
My original plan for Monday evening was to check out The Time Jumpers with Lynn Winterboer, Erin Beierwaltes and Ken Collier. Unfortunately, jet lag got the better of me and I ended up taking an unscheduled nap instead! Waking up around 8 pm, I wandered down to the Ice Breaker Reception, only to find myself embroiled in another round of "Six degrees of Jean Tabaka"! In this round, I was lucky enough to meet Gino Marckx, Brian Adkins, Jabe Bloom (@cyetain) and Abby Fichtner (@hackerchick). I really think there is a future in this game if I could only work out a way to monetise it - perhaps a certification would work! 😉